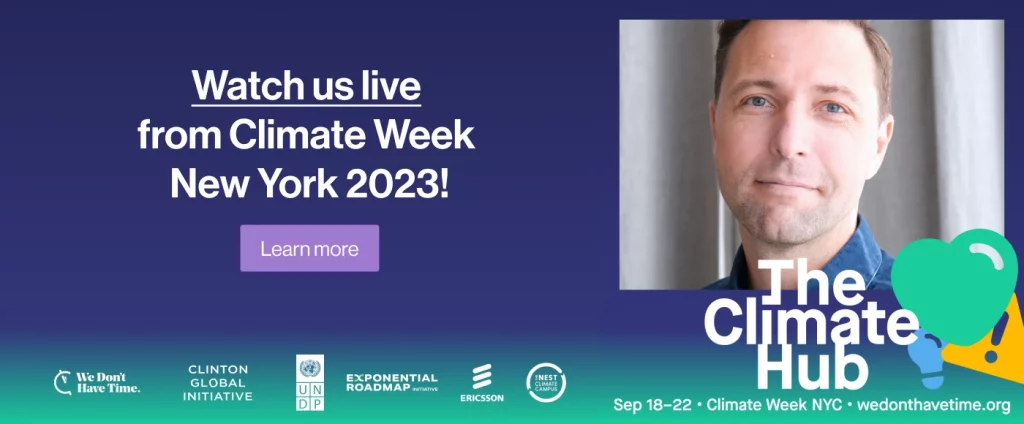 Climate Week NYC is the largest annual climate event of its kind, bringing together some 400 events and activities across the City of New York – in person, hybrid and online. This year's Climate Week will be held from September 17-24, 2023. The event takes place every year in partnership with the United Nations General Assembly and is run in coordination with the United Nations and the City of New York.
Considering several factors of the value chain, we have gathered data from 356 buildings in Finland and Sweden, and the results are clear: By optimizing your building's heating needs, you can reduce the amount of energy used from district heating – consequentially also reducing GHG emissions. And the effect of that is proven in the figures.
Listen in when we join Ericsson in presenting at this year's Climate Week, sharing a sneak peek into the report, numbers, and findings (report coming soon!).
Register to watch live
See us live at Climate Week, on the 20th of September at 20:00 Central European Time (UTC+01:00 / Amsterdam, Berlin, Brussels, Paris, Stockholm, Oslo, Copenhagen).
A stamp of quality – Proptech reducing GHG emissions
Getting invited to speak at Climate Week 2023 isn't just an honor — it's proof that the commitment to going green is making waves. As we step into a panel discussion on one of the world's most innovative sustainability stages, we hope to show how Proptech can play a huge part in reducing CO2 emissions.
We believe that success comes through cooperation and want to acknowledge the commitment from everyone at Kiona and our Certified Partner network – the local installation partners who make our vision and work viable. Their dedication and hard work facilitate the deployment of our solutions to property owners, facility managers, supermarket chains, and many more businesses worldwide.
Other than that, we are diving into:
The value of AI in building management: How easy access to data, visual overviews, and intelligent systems can simplify the management of technical equipment and provide a pathway towards achieving set energy and environmental goals – in a way that pays off.
IoT and the cellular network as an enabler to do swift rollouts on a large scale. Removing risk from investment and focus on simplified installation and faster completion, more use of standard solutions, wireless technology and open systems.
Hope to have you listening in!