Edge
Ready to get connected, gain insights and start your AI journey?
Edge
With our IoT platform, Edge, you get a powerful self-learning AI engine connected to all your buildings, allowing you to get in control of indoor climate and optimize energy use.
Edge makes it easy to gather data in real-time and connects to your installations through sensors and control units, giving you a tailored control strategy for each unique building. Identify discrepancies and analyze energy use for your entire portfolio, and watch the AI get smarter for each day that passes.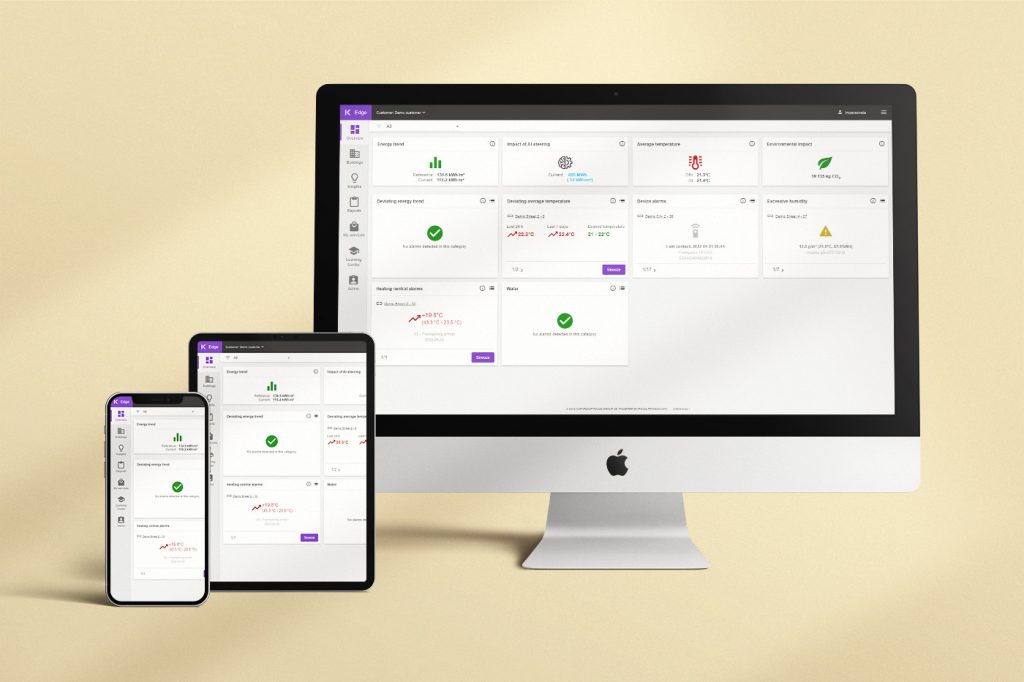 Use the data where it makes sense for you
Utilize our AI in your existing systems by connecting Edge through API. Import or export data – regardless of the functionality on the chosen platform, or take advantage of Edge's cloud service for a three-dimensional overview of your building.

Energy optimization with AI
Data from your building is processed by our AI engine with knowledge of how over 5 500 buildings behave under different circumstances. It continually optimizes energy supply and indoor climate based on the building's physical characteristics, weather, and indoor climate. The algorithm is self-learning – making it even more efficient over time.

Measuring and visualization
Get feedback and data visualization from meters and indoor sensors in Edge. Relish in effective real-time measurement, and gain control of your building's indoor climate, energy and water consumption. Integrate and collect data from third-party systems and import existing data into Edge.

Analytics
Edge collects large amounts of data from your connected buildings, giving you user-friendly visual presentations in graphs and 3D views. Create a comfortable and stable indoor climate with low-temperature variations regardless of external influences.

Reports and Insights
No expertise is needed. With ready-made reports, let us help you compare and understand your buildings. See detailed follow-up reports with compiled energy, indoor climate, economy, and Co2 saving. Insights will provide you with relevant data to improve performance and make data-driven decisions.
Remote heating control
The remote heating control lets you temporarily adjust the heat inside your building. Control and adjust in real-time from your smartphone or computer – no matter where you may be. The setting is automatically phased out over five days to ensure no unnecessary energy is wasted.

Deviation monitoring
When solving problems, dig at the roots instead of just hacking at the leaves. With continuous monitoring and alarms, you immediately see deviations in temperature, humidity, hardware failure, or energy consumption in your buildings. Be proactive and get ahead.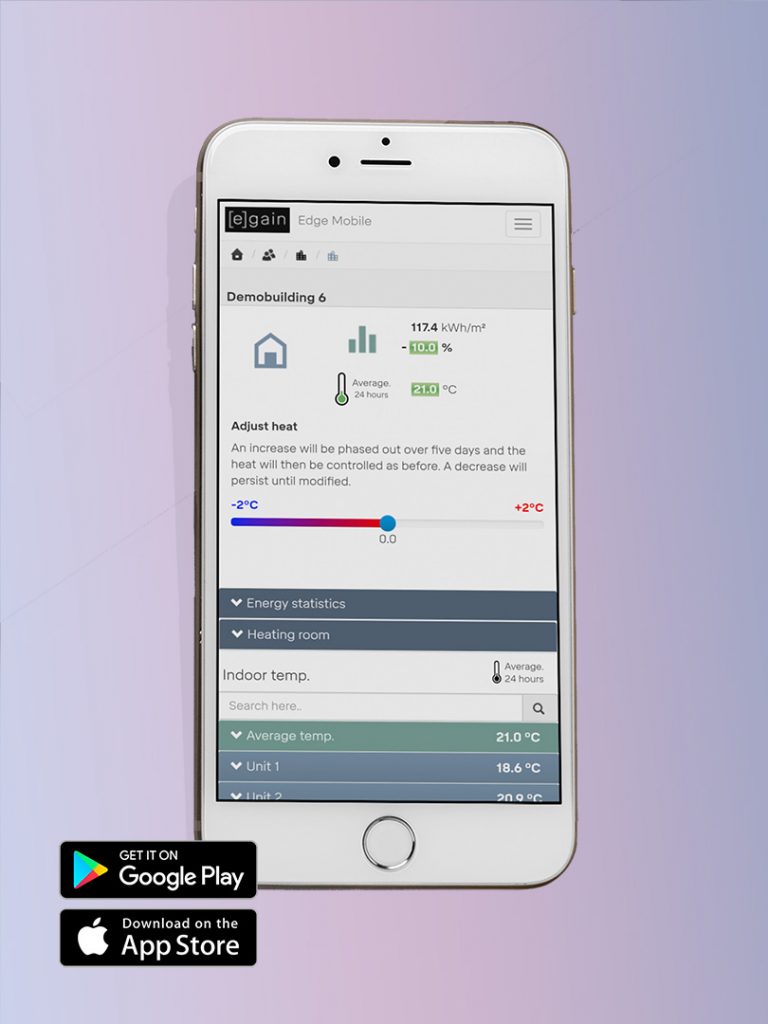 Mobile App
Utilize our Edge mobile App to visualize indoor temperature and get the ability to control and adjust on the go. Enabling both technicians and customer services to access building data on the go, letting them stay updated and in control no matter time and place.
Ready to connect
Increase the value of your chosen solution by expanding Edge with our many complimentary add-ons. Share data between buildings, suppliers or other systems, or visualize common KPIs and reports of your operation.
Edge +
Web Port
- SCADA and HMI 
Get the most out of your investment by connecting Edge to our HMI / SCADA platform Web Port, with a single, seamless integration. Submit algorithms for management and optimization completely software-wise, and enjoy the opportunity to tailor and build up to full SCADA functionality yourself!
Go to Web Port product page
Edge +
Peak Control
– Avoid high power loads
Take advantage of our intelligent control algorithm to avoid expensive extra fees. Instead of optimizing the indoor temperature, our Peak Control analyzes when power peaks can occur and then reduces these. Of course, without having to compromise on the indoor climate.
Read more about Peak Control
Edge +
Energy Target
– Become a part of the solution
Set clear energy goals for your buildings and work proactively and structured to achieve them. Energy target lets you analyze what you should focus on in your building based on investment costs, returns and potential savings. Our most effective tool to benchmark, plan, evaluate and continuously analyse measures that improve energy usage. 
Read more about Energy Target