Energinet
Want to know more about Energinet?
Energinet
Get connected to our market-leading Energy Management System for energy, waste, and environmental reporting, certified according to ISO50001 and ISO14001 standards.
Energinet is an intuitive Energy Management Software (EMS system) designed for building owners and industry. A user-friendly, adaptable, and highly configurable platform gives you a complete overview of energy data, consumption, and performance.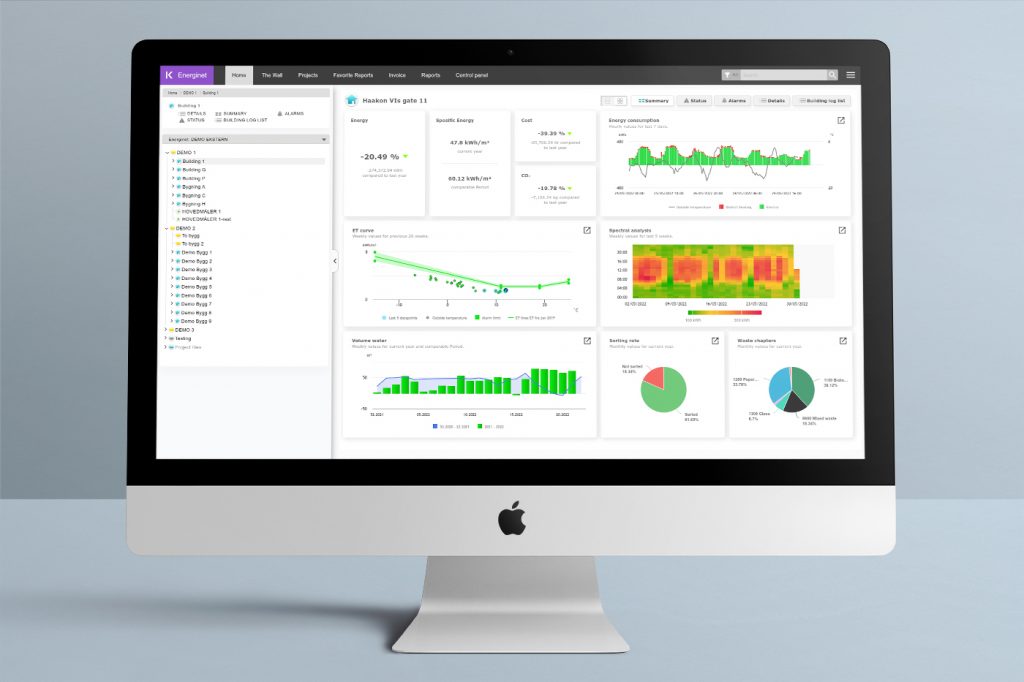 Maximizing whole-life value
Make yourself ready for the green loans, the requirements for a lower environmental footprint, and the necessary reports proving that you don't just talk the talk. Energinet covers the whole chain from metering to reporting.

Energy data collection
Energinet can receive data from all meters in-real time, independent of the communication protocol used. Everything you can measure can be solved with Energinet.
In addition to parsing standard formats, you can build your own format parser with the Energinet Format Generator.
Easy data import
Data is imported into Energinet via industry protocols (i.e., OBIX), secure file transfer protocols (SFTP), third-party APIs, and directly through our own API solutions. All systems that support data transfer on one or more of these interfaces can send data to Energinet.

Export freely
In addition to collecting large quantities of data from various systems, we also send your data back to you if you wish. Set up automatic exports to third-party systems or use our secure API services to export data such as raw data series or ready-made reports.

Analytics
Learn from standard analysis methods for energy consumption or use specialized algorithms for deviation detection and energy consumption forecasting. Automatic calculations keep communication up-to-date, optimized, and engaging.

Alarm handling
Get easy alarm configuration for all meters. Formulate specific energy targets, and alarms will notify the energy manager of deviations from set targets. In this way, measures can be implemented quickly.

Dashboards and reporting
Build your own reports or utilize ready-made standard reports. Get info on all kinds of consumption data and costs, spectral analyses, or compare reports at an overall level (see the entire portfolio), one building, or parts of one building.

ISO-certified and approved
Energinet is developed around ISO50001 and ISO14001 templates and procedures that satisfy audit requirements. This also complies with the Energy Saving Opportunities Scheme (ESOS) UK legislation.
After a company carried out maintenance work on the ventilation system in one of our buildings, they forgot to activate the heat recovery unit and had disconnected the time control system. Energinet immediately notified us that the energy consumption was enormous. We would never have managed to detect this situation without the aid of Energinet.
Robert Fjellstad
Unit manager, Oslo University Hospital
Ready to connect
Increase the value of your chosen solution by expanding Energinet with our many complementary add-ons. Share data between buildings, suppliers, or other systems, or visualize common KPIs and reports of your operation.
Energinet +
IWMAC
–  For full SCADA functionality
Combine Energinet's measuring and report system with our powerful SCADA to get in total control of the technical facility. IWMAC controls the installations, while Energinet tells you if the SCADA system and the measures you take - deliver as they should.
Go to IWMAC product page
Check Point
–  An intuitive digital tool
Easily log and keep track of temperature measures, non-conformances and actions – before anything sinks into oblivion. Stay on top of routine tasks and documentation while improving everyday procedures.
Read more about Check Point
Let's talk energy
Building owners, operations managers, and tenants all want their buildings to meet certain standards. It's about keeping emissions down and consumption low – because we care about the footprint we leave behind.
Energinet today covers around: