Building owners, operations managers, and tenants want their buildings to meet specific standards. It's about keeping emissions down and consumption low. It's because we care about the footprint we leave behind. Environmental management is here to stay – and if you're going to keep up with the rest, there are some things you need to be in control of.
Daily control with sustainable management
ISO certifications, Eco-Lighthouse, the Nordic Swan Ecolabel, "Don't print this email," and source-sorting of waste are just some of the things we do to help make our workplace or building as sustainable as possible. However, if you seriously intend to put energy monitoring on the agenda, you must include more parameters.
It's not just about alerting people and managing energy. It's about everything we do that generates consumption. Like water, waste, CO2, and not least: reliable reporting of the key indicators that matter. This is how you reach your goal:
Energy monitoring – and a bit more as well
What is an Energy Monitoring System?
An Energy Monitoring System
(short: EMS)
supplies users with data about their consumption patterns to create informed decisions and maximize savings. 
This information will help you define the baseline, find variations, identify causes, set targets, and monitor the results of your actions – overall creating healthier and more efficient operations.
With a full-scale EMS (Energy Monitoring System) solution, you can control all energy data, regardless of the communication protocol. This way, you can take control of your operations with precise measurement and evaluation of emissions. It's good for the environment and also reduces operating costs. And it doesn't stop there.
Because if you are going to be energy smart, you need an overview of both past and present consumption.
Are the energy-saving measures producing results?
Is automation working as well as it should?
What are the buildings or processes where we should be implementing measures?
Energinet will give you answers to all these questions.
Collection of environmental data
You get to collect all types of consumption data in a user-friendly system. Measure energy, water, steam, pressure, temperature, or volume data in liters or kg. With an administrative tool tailored to waste and environmental management as well as energy consumption, you get all aspects of what counts – the bottom line.
Dashboards and reporting
Set up your  dashboards with what's important to you, and get automatic report mailings. You can then identify discrepancies and opportunities for savings while having total flexibility in terms of the report tool tailored to your organization and particular industry.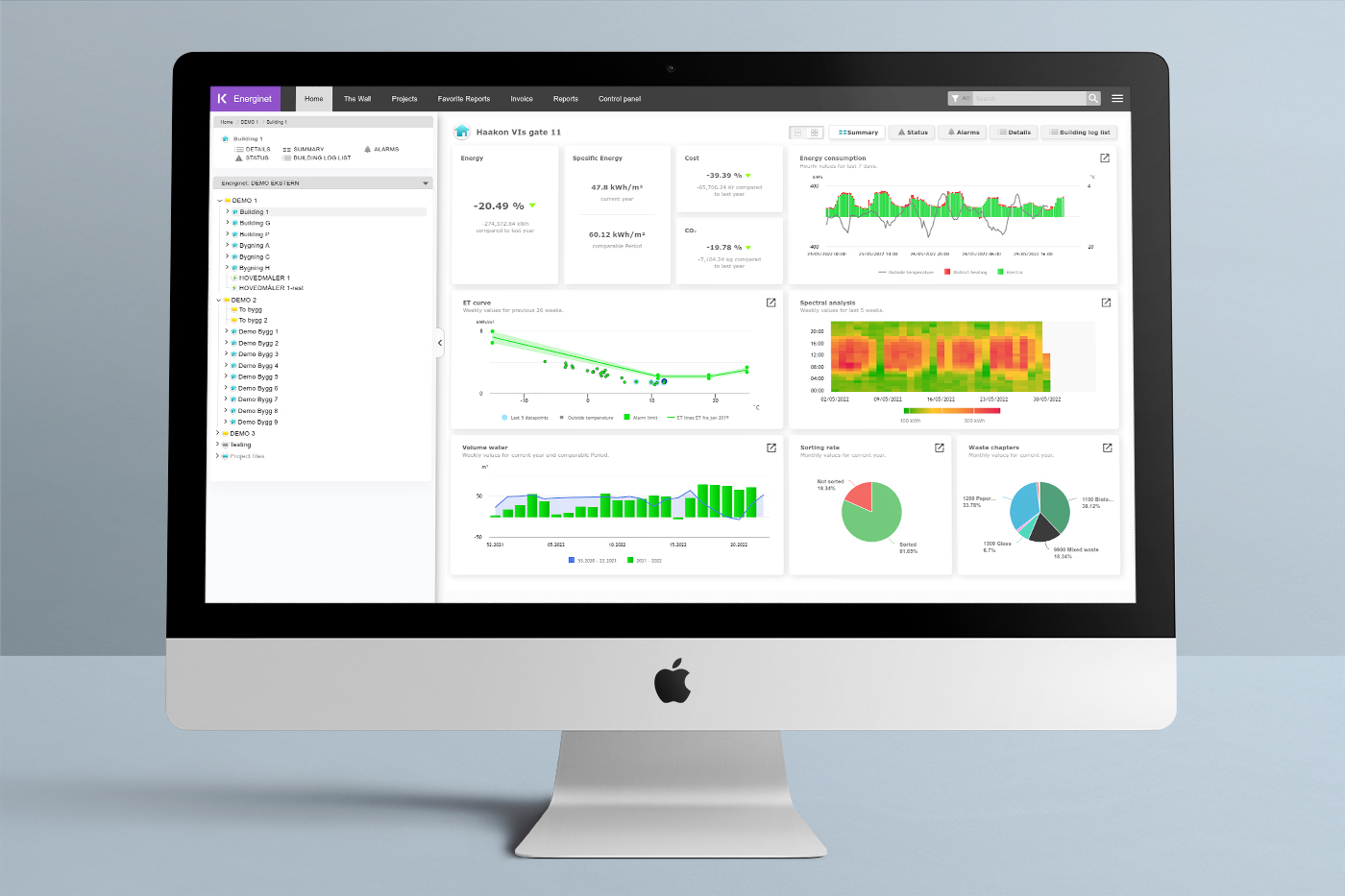 What are you waiting for?
If you currently have energy data in your Kiona solution, it is easy to connect Energinet. Combine alerts, management, and energy control in a single complete reporting tool – and you're well on your way to environmental measures that will impact your business.
Want to know more about Energinet?