The world around us is getting smarter and smarter. We see vehicles driving autonomously, drones fostering apple trees, body sensors surveilling our health status, and many other clever IoT applications. However, one of the industry segments with a relatively slow adaptation of smart solutions is the buildings sector, even though the energy efficiency of buildings is a hot topic – for all good reasons:
Collectively, buildings in the EU are responsible for 40% of our energy consumption and 36% of greenhouse gas emissions, which is not sustainable.
75% of Europe's buildings are not energy efficient today, and it is forecasted that 95% of those buildings will still be in use in 2050. This means that, particularly in times of energy crises, property owners are leaving much money on the table
To reach the overall EU objective of a 55% reduction in emissions by 2030, the building sector would need to reduce its emissions by 60%; this couldn't be more demanding.
Europe is undergoing an energy crisis, and many utility companies are falling back to fossil-based energy production to meet the demand. So, where do you invest?
Steel and concrete or IoT and AI?
The most obvious way to address the above challenges is physical updates; to improve building insulation, replace blowing windows, and replace fossil-based heating systems with heat pumps and solar panels. This needs to be done, but let's face it – you can't do this overnight.
The current energy renovation rate of building stocks in Europe is 1%, and most of today's global building stock will still exist in 2050. Suppose the building sector is to reduce its carbon emissions by 60% by 2030. In that case, the energy renovation rate of Europe's building stock needs to double – quite a challenge given the souring costs for building materials and the scarcity of resources in this industry.
As for many industries, digitalization offers another way to address challenges. Collecting all sorts of data related to the indoor climate of a building; weather conditions, energy consumption, and heating system performance helps turn questions into answers.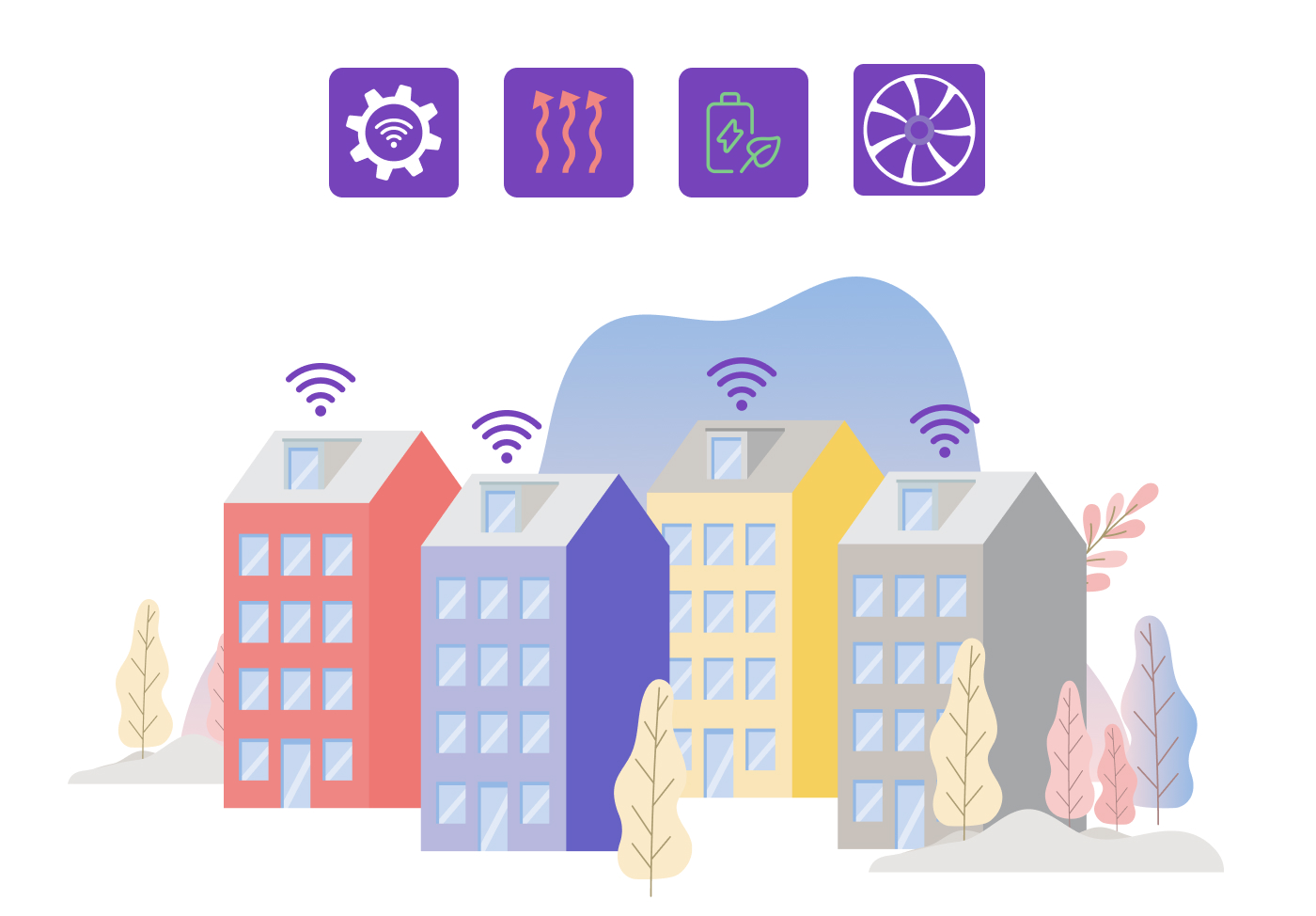 This approach creates value not by building insulation and window replacement but by leveraging IoT and AI engines to collect and process building data.
The technology is here, the investments needed are much smaller than mechanical construction, and results can be achieved much faster. But let's be clear: Smart building solutions are complementary to the energy renovation of buildings; they don't replace it.
Want to know more about our IoT and AI platform?
Where IoT meets the property sector
Success in building automation has many enablers, ranging from AI systems to sensors and actuators, and last but not least, IoT connectivity. The key to success in this industry segment is the co-value creation in ecosystems that turn smart buildings into reality.
With that in mind, we explored the true value and impact of IoT-connected buildings together with Ericsson and Arthur D. Little. The report Connected Buildings Energy Management elevates the need to monitor, control, and optimize energy usage – enabling property owners to decrease energy costs and CO2 emissions.