The minds behind Kiona have been in pursuit of energy thieves for almost two decades. Over this time, we have identified several eager repeat offenders. Here are the usual suspects.
1. The ventilation system – the suspect is well known.
At Kiona, we often find that customers are stunned when they see the energy calculations for their building. They are often in the dark about the substantial potential for making savings. The ventilation system is nearly always mixed up in this affair.
"The most common event is that the system is running around the clock or has too much uptime. It's important to remember that you're not only trying to save energy but that you need to distribute load across the 24-hour day so that you avoid expensive energy tariffs. At the same time, you should never compromise on air quality. All this requires a lot of logic," says Jostein Markussen from Kiona.
2. Valve leaks – energy straight down the drain.
Leaky valves is yet another repeat offender. It is an extensive system, most frequently comprising several valves open for warm water and one for cold water. If the valve on your cooling coil is leaking, this is compensated for by adding more heat. Over time, this can all add up to a terrifying energy bill.
"The problem here is that a fault like this isn't always easy to spot because there may be something physically wrong with the valve. The imaging and systems may be telling you everything is all nice and fine and sealed. It's only when you analyze the temperature graphs that you see that things aren't how they should be," says Markussen. He also adds:
"We can carry out this kind of analysis on your behalf completely automatically. Using IWMAC/Web Port, we can set up rules to look for abnormal temperature fluctuations through autonomous systems. You'll then be notified if something has gone wrong – or if it happens in the future."
3. District heating/ snow melting facility – cunning swindlers.
Pro tip:
A snow-melting facility is the most obvious area of use for forecast-based control, but far from the only one. For example, you can connect the outdoor light to the Astro UR for sunrise and sunset as an alternative to a calendar or sensors.
A snow-melting facility around an entrance or loading bay can be worth its weight in gold for businesses in the northern hemisphere that experiences heavy snow and ice in winter. However, it can cost the earth if you don't control it properly. The more energy-intensive a system is, the more critical it is to optimize it to the exact details. Many facilities like this are left running for longer than they need to be.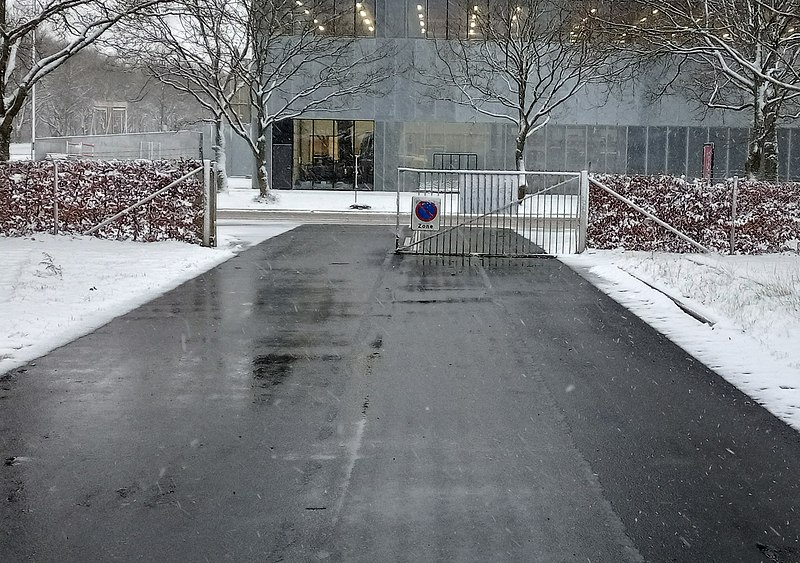 A typical solution is to use a snow detector. Such detectors can notify the system when it discovers snow or ice. However, suppose you combine this with forecast-based control considering data from the Meteorological Institute. In that case, you can start preheating to prevent any snow or ice from settling.
In some cases, the caretaker manually controls snow melting based on the weather forecast. This method is rarely the most effective way to manage the system.
"It might have been good enough to let the system come on at 3 a.m. instead of turning it on the evening before, or it could be turned off if the weather forecast was for snow to turn sunny and above freezing later on. That kind of smart forecast-based control can save a lot of money over time."
Our very own Ståle Eriksen has his own story to share about a customer:
"We had a customer who had their ground heating running over the summer, costing them 5 000 EUR every month. The problem is that people don't know about it. They might be told that something is broken, but what about when it's just burning through your cash? You have to actively monitor it, and most people don't have time for that."
4. The heat regenerator – is your excess heat going up in smoke?
If your building has a heat pump or your store features a cooling and freezing system, you have a heat regenerator. It enables you to do something useful with your excess heat. If you don't need it, it goes up to the roof and straight into the sky.
"Unfortunately, this is something that we find is happening all too often. Many don't have good enough systems in place to notify them or override their heat regenerator if a need elsewhere in the building appears. That's as wasteful as it gets," says Eriksen.
The world's best investigator – and caretaker
Common to all of these thieves is that they are pretty easy to seize – if you know where to look. The problem is that even if you have an excellent overview of your energy use, you do not necessarily know whether it is as low as it could be.
"Simply having an overview often gives you a false sense of security. The full benefit of your overview requires either specialist expertise or regular analysis. It takes time, and no matter what, things can always happen after you have left for the day. How many people review the history and check out that kind of thing?" asks Markussen.
"Maybe you only run an analysis when you perform your monthly review of the EMS system (Energy Management System) or when you get your electricity bill? But by then, the invoice is already due for payment."
The solution is as simple as it is ingenious. Using Kiona's smart, data-driven limits, the system can capture whether the building is being wasteful – and notify you of the problem.
"They analyze your consumption on an ongoing basis so that you spot when something isn't working as it should. This encompasses both physical faults and when something can be tweaked to make it more efficient. We refer to these functions as "the caretaker that never sleeps" because they not only let you know, but they try to fix the problem themselves through applying logic," says Markussen.
"This way, you can simply ensure that your building uses as little energy as possible without compromising anywhere else."
Want to know how you can capture the energy thieves in your building?