Web Port
Test Web Port directly in your browser
Web Port
With our SCADA / HMI system, Web Port, you can visualize, monitor, and manage your property's control system in the cloud and as a local installation.
Build your automation solution with a scalable, adaptable, and accessible SCADA system that you customize yourself. Use Web Port to interact with a single control system or as a cloud platform, covering all buildings in your portfolio. Enjoy a quick and easy installation, and start connecting today.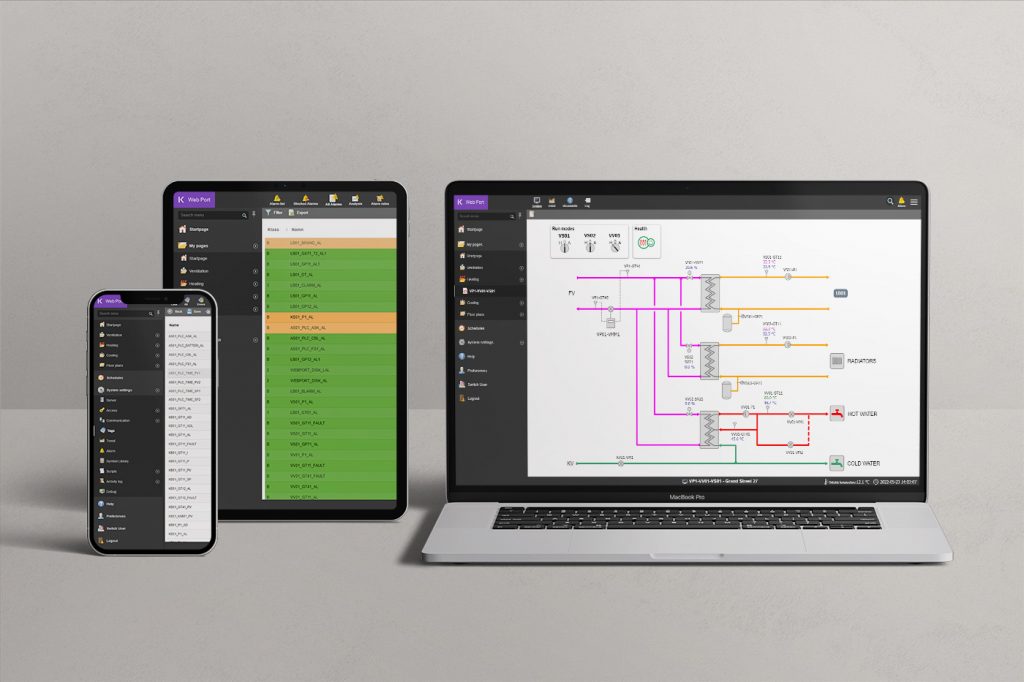 Download Web Port and create your SCADA system.
Plug and play
Together, we strive for a system with a fast learning curve that dramatically reduces the time spent on installation, operation, and support. Low system requirements are needed, and you can always check up on our web-based training. It only takes one minute to download and install Web Port.

Monitoring and control
Monitor, control, and edit – effortlessly. Track system status in real-time, or create and edit dynamic flow images straight in the browser. You can also maneuver pumps and valves directly, allowing you to stay in charge wherever you may be. Build your project, design the functions and use them straight away on already installed systems or new systems.

Communication support
We got you covered with support for a variety of drivers and open APIs. Communicate via various protocols between Web Port and external hardware and systems.
Drivers: IEC60870, Abelko, WDC, HelvarNet, WebPortApi, MBus, SQL, EcoGuard, NBS, MQTT, KNX, REST, Exoline, SRDLink (KTC), Fidelix, S-Bus, BACnet, Modbus, ADS, OPC, Trend, PiiGAB, CtAPI, SNMP.

Alarm handling
Get started on alarm handling and be alerted of important events. With Web Port, you get a complete alarm list with history, comments, and the ability to block alarms – should you need to. Stay updated through e-mail and SMS alerts.

Reporting
Build your own reports directly in the web interface or use our standardized reports on energy, water, cooling, and heating. You can publish your reports as PDF, interactive pages, or CSV and do timely exports to a disk file, email, or external FTP server.

Remote control
Gain access to the building both locally and remotely and enjoy having control of the facility. Of course, modern web technology provides the same efficient interface on both computers and mobile. Made for you who are on the go.

Security and rights management
Adjust users and user groups and provide different access levels based on directory, page, object tag, or function. Control rights at both user and group level – allowing you to manage complex systems smoothly.

HMI online editor
Customize your Web Port directly in the web interface with Javascript, HTML, CSS, and SVG, and use our open API to integrate with external systems. Create your own toolbars, popups, text, graphics, and image buttons, and fill your or your customer's wishes for appearance and function.

Works on all devices
Web Port works in all browsers across devices. Get auto-scaled and zoomable vector-based process pictures and enjoy a responsive web interface based on HTML5 without plugins.
Get your Web Port license
The basic license includes 1 driver and 5 images.
Extend your license
Need to renew or expand your Web Port license?
Ready to connect
Increase the value of your chosen solution by expanding Web Port with our many complementary add-ons. Share data between buildings, suppliers, or other systems, or visualize common KPIs and reports of your operation.
Web Port +
Edge
– Energy optimization with AI
Take advantage of our powerful, self-learning AI engine to step up your energy-saving game. Through this seamless integration, you get algorithms that optimize energy supply and indoor climate around the clock — giving you plenty of time to work on other vital tasks.
Read more about Edge
Web Port +
Analytics
– Automate your analysis
Analyze the energy consumption of your buildings and compare them with each other. Find leaking water pipes or valves, incorrectly adjusted regulators, or uneven room temperatures. Follow up over time and see the results of the measures you take.
Read more about Analytics module
Web Port +
Portal
– Connect local HMI to our cloud
Efficiently control and monitor all your systems from our cloud. Connect your systems and collect all system images, alarms, and calendars in one place. Make joint reports for all your facilities — and show the whole of the work you do.
Read more about our Portal module
Web Port +
Map
– Visualize your building portfolio
Get started with our map module, configured in minutes directly in the web interface. Visualize and navigate between your entire building portfolio and quickly see the status of whole plants, units, or individual objects.
Read more about our Map module
We had been looking at ways to add some form of smart energy management to our portfolio. When Kiona presented such a solution, made possible through integration to Web Port and our other technical systems, we found it interesting to investigate. And then it happened quickly, to already be up and running feels really positive.
Jens Ringö
Head of Property, Rosengård Fastighets AB